Rebel MLAs of Shiv Sena have started protest in Maharashtra. The information of protest has started coming even before the meeting of Shiv Sena district presidents and other leaders at Shiv Sena Bhawan Mumbai. Meanwhile, Shinde faction has released photos and videos of 38 Shiv Sena MLAs' support in Guwahati. Earlier, Shinde had claimed the support of 50 Shiv Sena MLAs.
Shiv Sena workers threw black ink on a poster in Nashik city on Friday. This poster was of Eknath Shinde. Declaring Shinde a traitor, Shiv Sena workers raised slogans of Murdabad. Reports of similar protests are also coming from the suburbs of Mumbai. Some Shiv Sena workers tried to take down Shinde's poster in Thane. This poster was put up by BJP to welcome Shinde.
strategy in the meeting
This incident happened before the meeting at Shiv Sena Bhavan. Shiv Sena leader Sanjay Raut has said on Friday itself that if needed, Shiv Sena will come on the streets. It is understood that a meeting of Shiv Sena district presidents has been called in this regard. Chief Minister Uddhav Thackeray's son Aditya Thackeray has reached to address this meeting. Through this meeting, Shiv Sena also wants to tell that it has a hold on the party. There are indications that Shiv Sena workers may be asked to come out on the streets.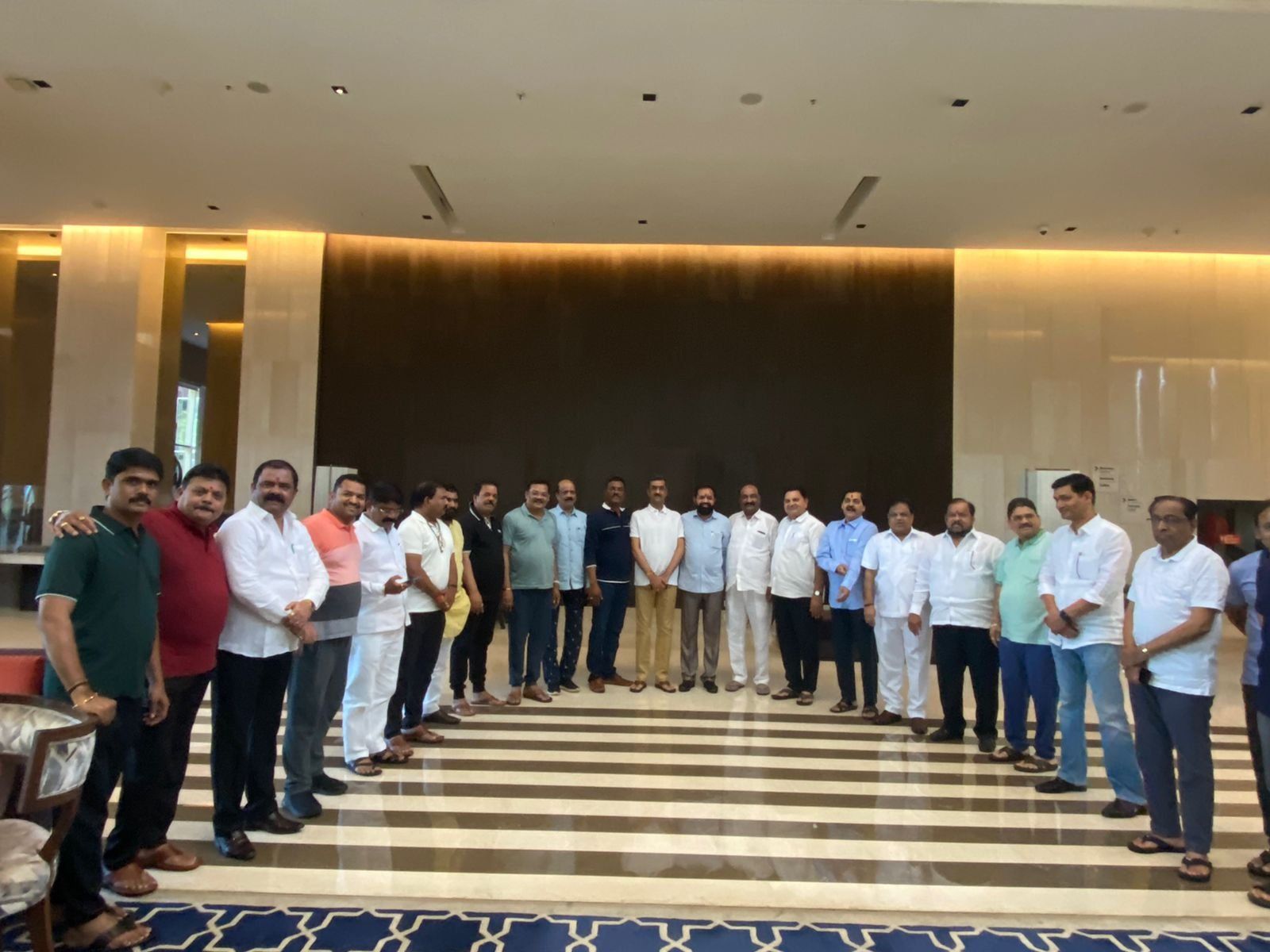 Eknath Shinde faction tweeted a photo of support of 38 MLAs in the afternoon
On the other hand, rebel leader Eknath Shinde is repeatedly changing the statement regarding the number of MLAs. On Friday afternoon, he tweeted a photo from Guwahati, claiming the support of 38 Shiv Sena MLAs. Whereas in the morning he had claimed the support of more than 50 MLAs in an alleged exclusive interview to all TV channels. On Thursday, this number was told 40 from his side.
Assam Police is stationed outside the Radisson Blu Hotel in Guwahati where Shinde faction MLAs are staying. No person is allowed to go there. When Shinde has to talk to journalists, he calls in from outside or talks in the lobby.
Assam | Sanjay Bhosale, deputy district chief of Shiv Sena from Maharashtra's Satara, arrives in Guwahati, urges party MLA Eknath Shinde to return to 'Matoshree'

Shiv Sena has given a lot to its MLAs. They should return to 'Matoshree', he says. pic.twitter.com/GiF7D7qBSF

— ANI (@ANI) June 24, 2022
When Shiv Sena's Satara district vice-president Sanjay Bhosle reached near the hotel in Guwahati on Friday, he was taken into custody by the police. Sanjay Bhosle, upset with the ongoing turmoil in Shiv Sena, had reached Guwahati to persuade the MLAs. But the police caught him outside. Sanjay Bhosle said that of course the police did not let me meet the MLAs, but these MLAs have to come among the public. We are waiting for them.
Maharashtra: Ink thrown Shinde's poster, protests on the streets