Woman gets 46 months in prison for role in 2016 riot|District Council Election 2019|chinadaily.com.cn

Woman gets 46 months in prison for role in 2016 riot
Updated: 2019-11-27 07:25
By Gu Mengyan in Hong Kong(HK Edition)
A 24-year-old woman was sentenced to 46 months in prison on Tuesday on two charges of rioting in Mong Kok over three years ago.
Pat Wai-fun was convicted in the District Court earlier this month for helping protesters dig up bricks and throwing paper boxes into a fire during the Lunar New Year riot.
In February 2016, city officials had tried to shut down a night food market in Mong Kok, one of Hong Kong's busiest districts. This prompted radical protesters to hurl bottles and garbage cans at police officers. They also pried bricks from the pavement to use as weapons.
Dismissing a request for probation from Pat's lawyer, who said she is intellectually disabled, Judge Lin Kam-hung said the defendant had arrived at the scene, equipped to participate in the protest, before the violence escalated. Pat was therefore well aware of what she was about to do, the judge argued.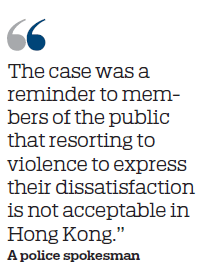 Lin said it would likely send the wrong message to society if someone participating in street violence were to be sentenced to probation simply because the court accepts the recommendations of a lawyer or psychologist. This could also undermine the deterrent effect, he reasoned.
The judge did not rule out the possibility that Pat was seeking a sense of identity and presence by participating in unlawful activities – including the "Occupy Central" movement in 2014 – as she was marginalized from mainstream society due to language and intelligence difficulties.
Everyone is entitled to pursue democracy, freedom and social justice, but this is not an excuse to hurt other residents' livelihoods or to ask for leniency later, he said when announcing the sentence.
After sentencing, a police spokesman said the case was a reminder to members of the public that resorting to violence to express their dissatisfaction is not acceptable in Hong Kong, and that anyone who does so will be held accountable.
Pat also is accused of detaining and assaulting a reporter from the Chinese mainland during an anti-government protest at Hong Kong International Airport in mid-August. She was denied bail in October and will appear in court again over the airport incident on Jan 21.
(HK Edition 11/27/2019 page4)
Woman gets 46 months in prison for role in 2016 riot|District Council Election 2019|chinadaily.com.cn
China Daily > HK Edition News
China, #Woman #months #prison #role #riotDistrict #Council #Election #2019chinadailycomcn